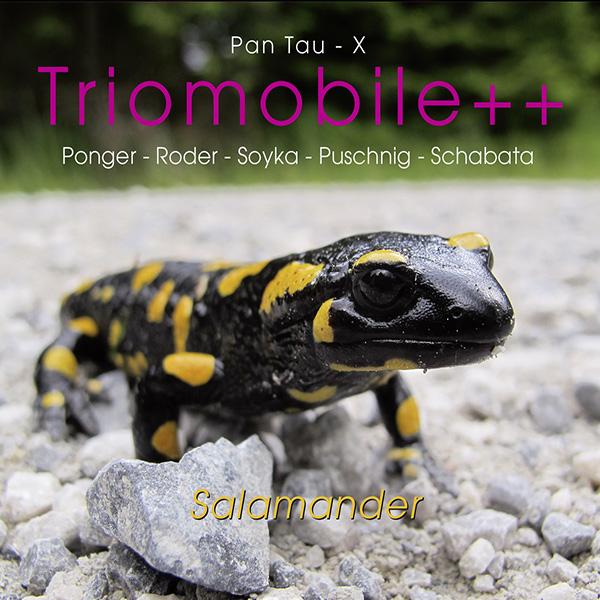 Triomobile++ "Salamander"
pt-x 017 (2014)
...the Band:
Wolfgang Puschnig - A - alto saxoafone, flute
Woody Schabata - A - vibraphone, marimba
Peter Ponger - A - piano
Jan Roder - D - double bass
Uli Soyka - A - drums, toys
-(Release 14.11.2014)
All Impro-Compositiones by:
Wolfgang Puschnig, Woody Schabata, Peter Ponger, Jan Roder, Uli Soyka
Recorded live 13.11.2013 @ OFF Theater (Vienna/Austria)
Mix / Mastering / Editing by Reinhard Buchta & Uli Soyka
Piano Tuning by Günter Langbein
Cover Design by Uli Soyka
Artwork by Bettina Frenzel
Photos by Uli Soyka, Artist Photos by Bettina Frenzel
Produced by Uli Soyka © 2014

Info:
- der Focus dieses Quartett's liegt in der "gemeinsamen, freien Improvisation" - aus diesem Vermögen und Einlassen auf musikalisches Risiko und dem Vertrauen zu- u. aufeinander sowie der Aufmerksamkeit für-einander entstehen sehr komplexe Klang-Geschehnisse, welche kein hörendes Ohr unbeeindruckt lassen!
- Die dargebrachte Musik von "viererlei" besticht durch höchstes Niveau im interaktiven Zusammenspiel, hoher Konzentration, starkem Focus und Spannungsgeladenheit und enormer Hingabe im gemeinsamen Spiel Räume und Welten zu eröffnen - Klangwelten zu gestalten - im spielerischen Wandel die Zuhörer*innenschaft auf musikalische Reisen zu entführen!
Musik hören - Musik erleben - Musik leben - Musik wahrnehmen - Musik (kennen)-lernen - Musik spüren - Musik spüren lassen - Musik einatmen - Musik ausatmen..., Musik für Dich gemeinsam spielen!
...und oft entsteht einfach "Magie :)) "
"...ein experimentierfreudiges Improvisations-Quartett "Triomobile++"
...don't miss it ! (CD pt-x 017)
Sponsored by Berndorf Privatstiftung & SKE-Fonds
A big "Thank You" to our listeners and concert-audience !!!

Price: EUR 19.00
(EUR 17.00 if you buy 3 or more albums)
mail expenses are added to the price of CD (official mail charge for letter or postal package, depending on the weight of package)
Tracks
| | |
| --- | --- |
| | 01 Triomobile++_Salamander_pt-x-017-1-01 |
| | 02 Triomobile++_Salamander_pt-x-017-1-02 |
| | 03 Triomobile++_Salamander_pt-x-017-1-03 |
| | 04 Triomobile++_Salamander_pt-x-017-1-04 |
| | 05 Triomobile++_Salamander_pt-x-017-1-05 |
| | 07 Triomobile++_Salamander_pt-x-017-2-01 |
| | 08 Triomobile++_Salamander_pt-x-017-2-02 |
| | 09 Triomobile++_Salamander_pt-x-017-2-03 |
| | 10 Triomobile++_Salamander_pt-x-017-2-04 |
| | 11 Triomobile++_Salamander_pt-x-017-2-05 |
| | 12 Triomobile++_Salamander_pt-x-017-2-06 |
| | 13 Triomobile++_Salamander_pt-x-017-2-07 |
© 2023 Uli Soyka / Pantau-x-records all rights reserved!
Impressum | Datenschutzerklärung